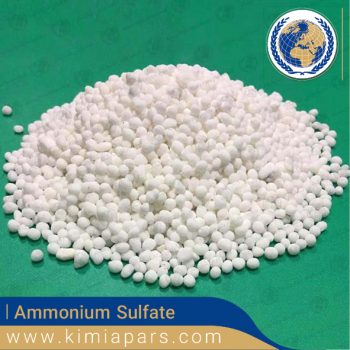 Granular Ammonium Sulfate
Description
Download of Analysis
Description
Chemical Formula of Ammonium Sulfate: (NH4)2SO4
Other names: Ammonium sulphate | Diammonium sulfate | Sulfuric acid diammonium salt | Mascagnite | Actamaster | Dolamin
HS Code: 31022100
UN Number: 2506
CAS Number: 7783-20-2
Apperance: Fine white hygroscopic granules or crystals
Usages:
use of Ammonium sulfate is as a fertilizer for alkaline soils.
In the soil the Ammonium ion is released and forms a small amount of acid, lowering the PH balance of the soil, while contributing essential nitrogen for plant growth.
it is also used as an agricultural spray adjuvant for water-soluble insecticides, and fungicides.
food additive.
preparation of other Ammonium salts.
it is particularly effective as an adjuvant for 2,4-D (amine) glyphosate , and glufosinate herbicides.
Using it as water treatment industry and/or cleaning aditive.
Packaging: 50 Kg bag
Price: Negotiable, depending on the amount of the order
Payment terms: 100% T/T in advance
Min order: 1*20 ft. FCL container
Delivery time: Within 5-10 days after we receive the payment
Origin: Iran
Please click on the button below to download product analysis